The essential tools for watchmaking
The basic watchmaker's tools are composed of several tools and families of tools.
The various basic tools for any watchmaker
You will notice in this article that a large part of the tools presented come from the BERGEON company. For more than two centuries, this company has been developing and marketing its entirely Swiss Made tool (suppression du lien) to a large majority of watchmaking professionals and companies, including Initium.
Tweezers: an extension of your fingers
Antimagnetic, with a fine point or an exceptionally fine tip, there is a multitude of them.
What we call tweezers, always in the plural, are small pliers used for precision work and handling of various watchmaking parts, such as screws, cogs or pinions.
Generally made of steel, tweezers are also available in other materials.
Carbon steel: extremely hard and resistant, this material is often used for work requiring a certain amount of pressure, such as the handling of spiral beams. However, despite its strength, carbon steel is susceptible to corrosion and is not antimagnetic.
Stainless steel: known for its resistance to high heat, around 400 °C, stainless steel resists corrosion although it is more flexible than carbon steel.
Antimagnetic steel: as its name indicates, this material is 80% antimagnetic. It is also resistant to elevated temperatures and corrosion.
Titanium: in addition to its 100% antimagnetic properties, its flexibility, and its resistance to elevated temperatures, this material has the advantage of being light. It is in fact 40% lighter than stainless steel. However, the disadvantage of titanium is its relatively high price.
Brass, bronze, and nickel: these three materials have the same characteristics. In addition to being 100% corrosion resistant and anti-magnetic, they mark the parts extraordinarily little during handling. Thus, the choice between them depends on the preferences of each watchmaker.
Wood: exceptionally soft, wood does not mark the parts handled. It is therefore often used to work with soft materials. Generally, wooden tweezers are actually made of steel with only interchangeable wooden tips.
Plastic: known for its insulating properties, plastic tweezers are generally used to change batteries.
The screwdrivers generally come in batches and are placed on a rotating base associated with a non-slip base, to facilitate handling and storage. These bases can contain up to ten screwdrivers.
The screwdriver is an essential watchmaking tool for the assembly, disassembly and adjustment of a timepiece. Indeed, it allows to manipulate exceedingly small elements within a movement.
The screwdrivers are generally made of stainless steel with an elastomer membrane. Their head is ergonomic and made of self-lubricating POM (polyoxymethylene) synthetic material, thus facilitating their use.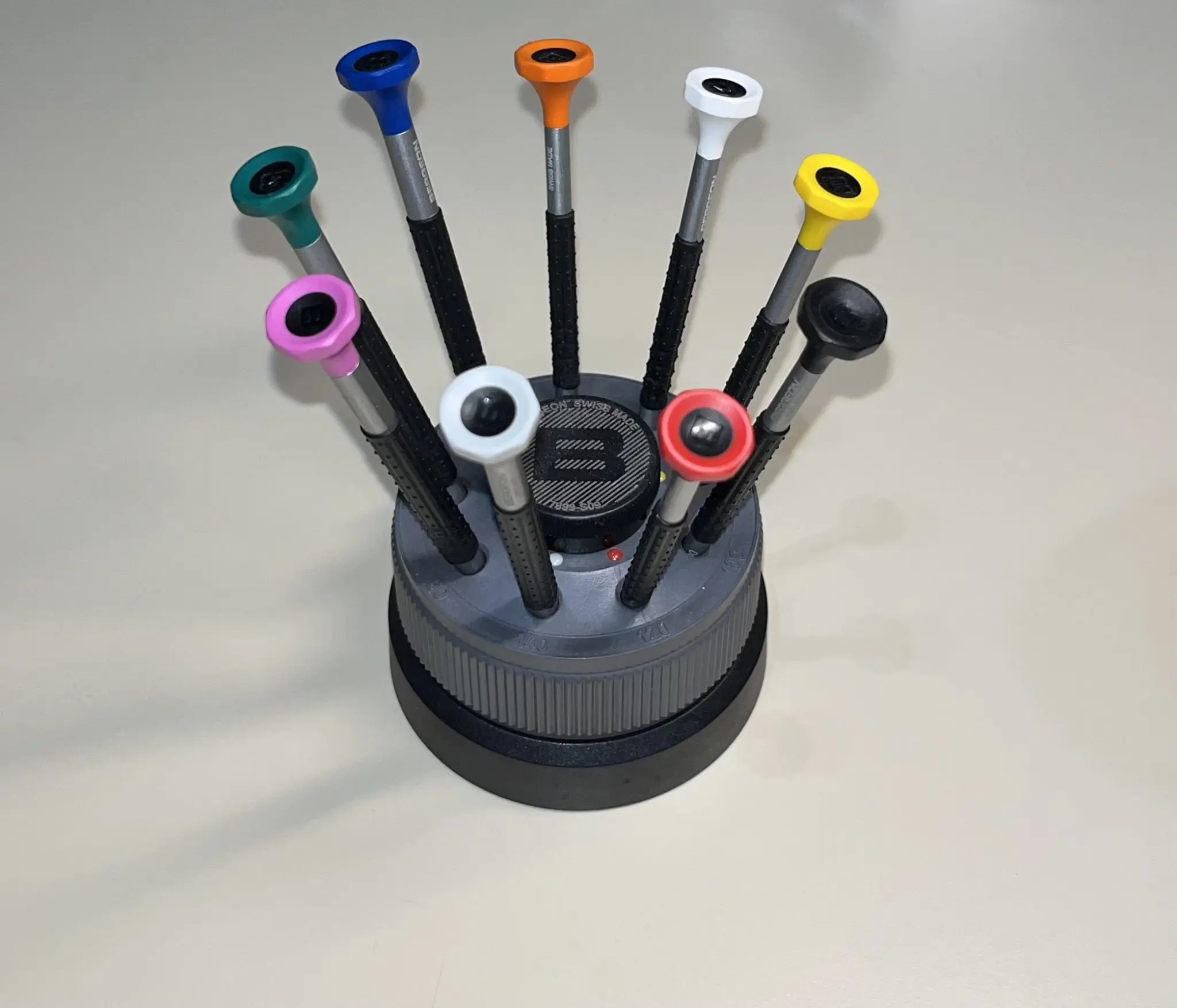 In watchmaking, it can be visually complicated to manipulate exceedingly small parts that make up the movements of a watch. Therefore, watchmakers use a magnifying glass as a tool to improve their vision and precision.
Watchmaker's magnifiers can be offered in various forms, all of which allow the watchmaker to have both hands free:
The headband magnifier is wrapped around the end of a wire to attach it to the skull.
The eyeglass magnifier has a clip on the end to attach it to eyeglasses.
The simple magnifying glass can be held in the roundness of the eye by the contraction of its muscles.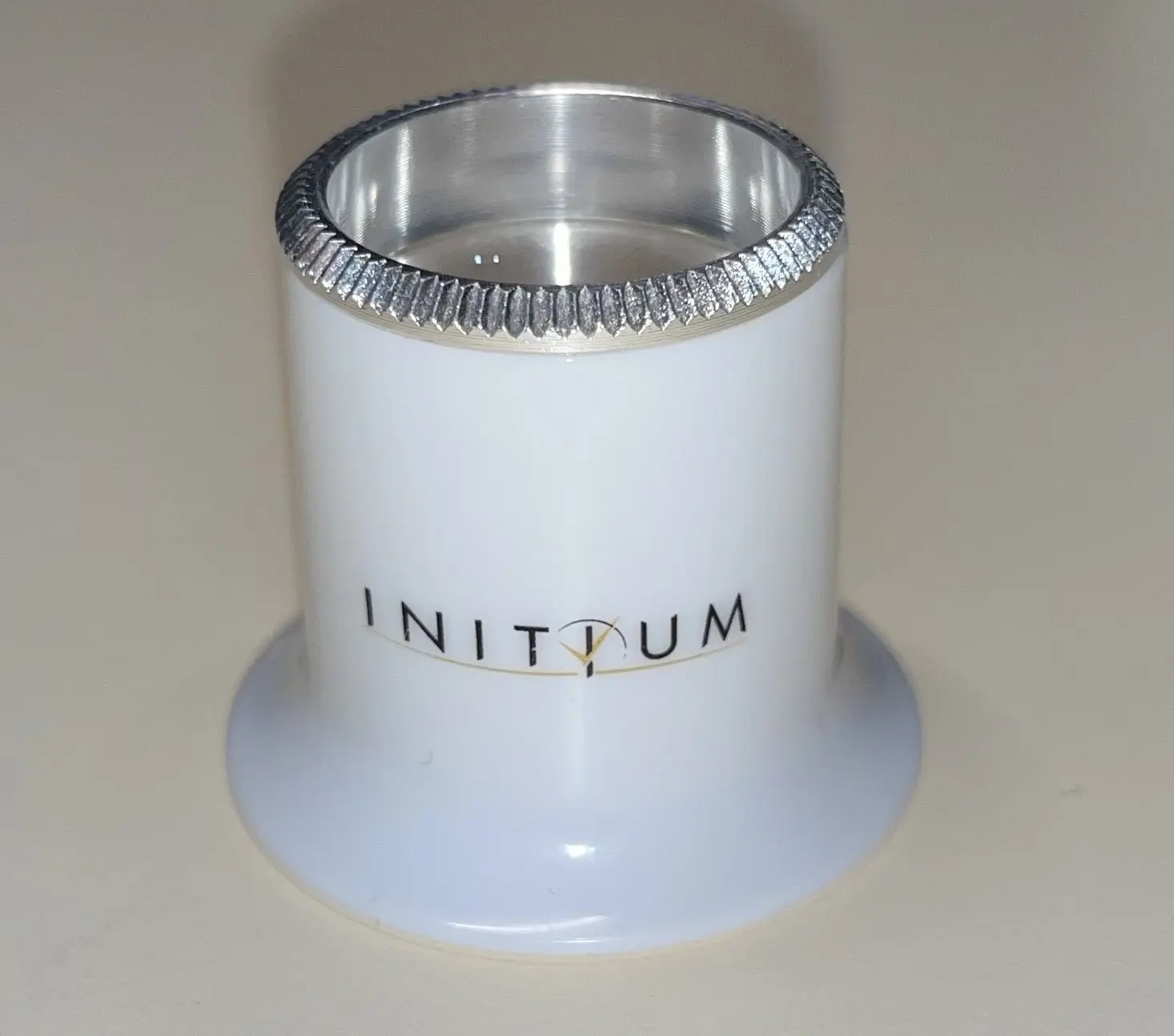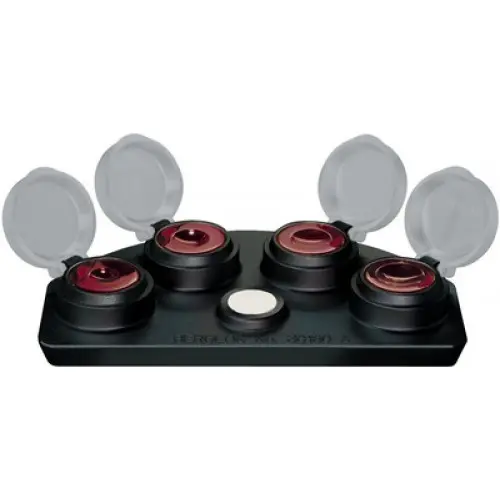 In watchmaking, lubrication is essential. Its action by the film of oil or grease prevents the direct contact of the varied materials in its presence. Indeed, friction can create energy losses due to friction or wear of the mechanical performance.
The tool related to watch lubrication is generally in the form of an oiler, allowing the storage of oils and greases necessary for the lubrication of watch parts.
Most models have four compartments, or cups, in which the necessary materials are stored. The watchmaker then uses a small brush to take the material and place it on the movement parts.
Tools dedicated to watch cases
A central visual element of a watch, the case protects the movement of the timepiece from shocks, dust, and humidity.
In order to close the case, it is necessary to manipulate the back of the watch (suppression du lien), the part opposite the dial. Generally, the simple manual force is not enough for a watchmaker to close a watch. It is therefore recommended to use different tools, depending on the type of back, to close it.
To close cases with pressure back
A steel stem is a stable tool with a threaded mechanism generally used to close pressure watch backs.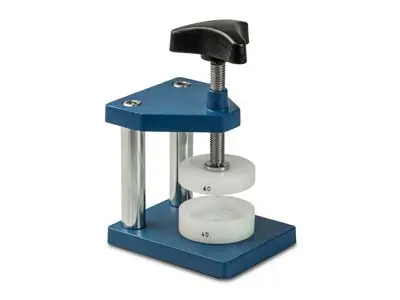 The casing cushion is provided with a flat surface allowing the placing of watch parts, but more particularly, and as its name indicates, the watch case in order to carry out the casing. Made of flexible and non-slip material on both sides, this watchmaking tool prevents scratching watch glasses.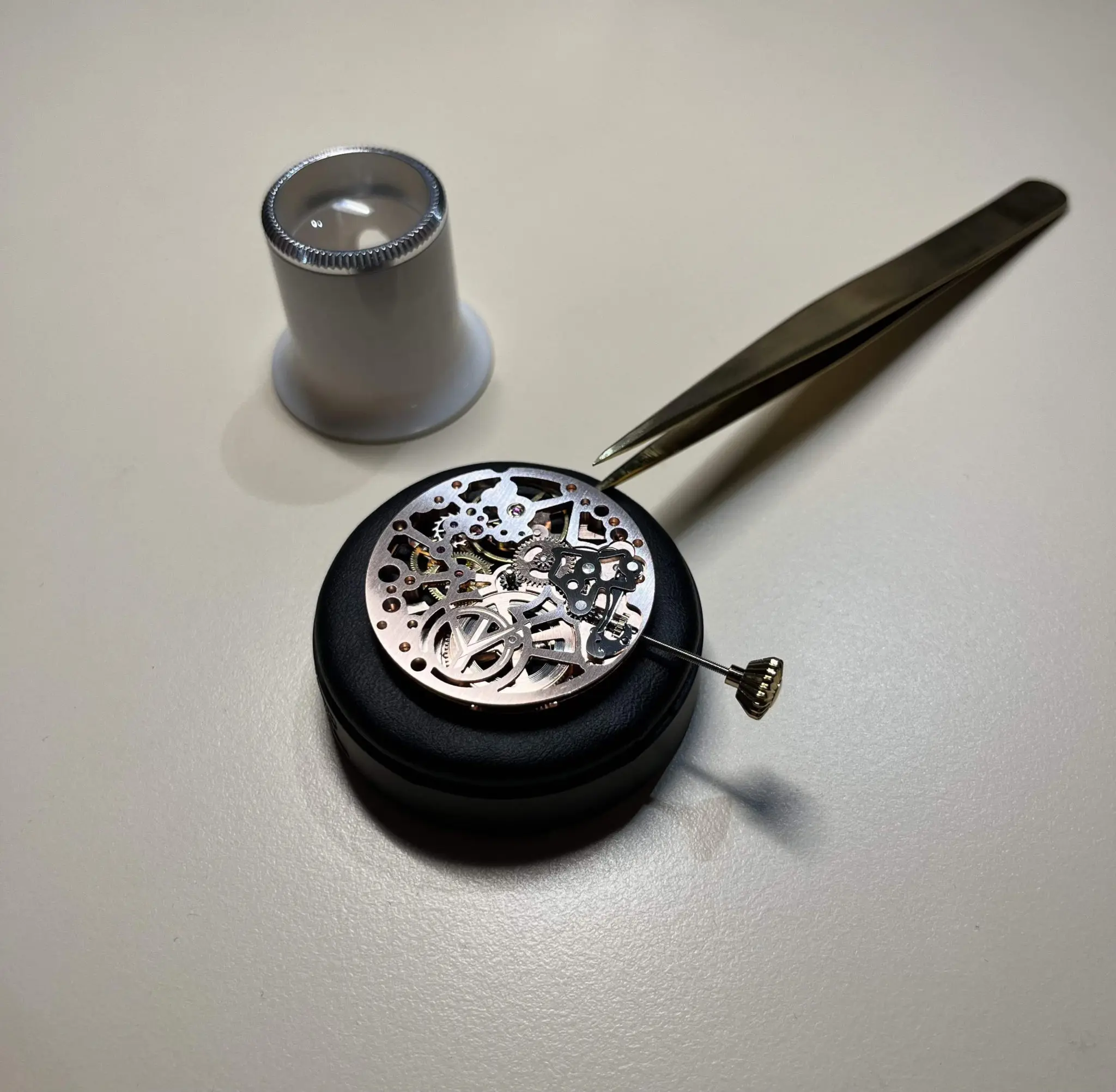 Tools dedicated to bracelets
In the watchmaking industry, the tool that allows to put on and take off the bars of a bracelet is essential.
We present here the tool mainly used in watchmaking: the spring bar. It contains a spring to fix the strap to the lugs of the watch case.

This tool is generally composed of forks or spikes acting as a lever to facilitate the manoeuvre on a bar.
Tools dedicated to needles for a clean watch hands installation
In order to ensure a clean installation of the watch hands, it is necessary to use a dedicated tool to facilitate their installation.
This tool allows you to press perpendicularly on the centre of the needle without touching its axis. It is, however, important to know how to manage the pressure exerted in order to avoid bending the needles.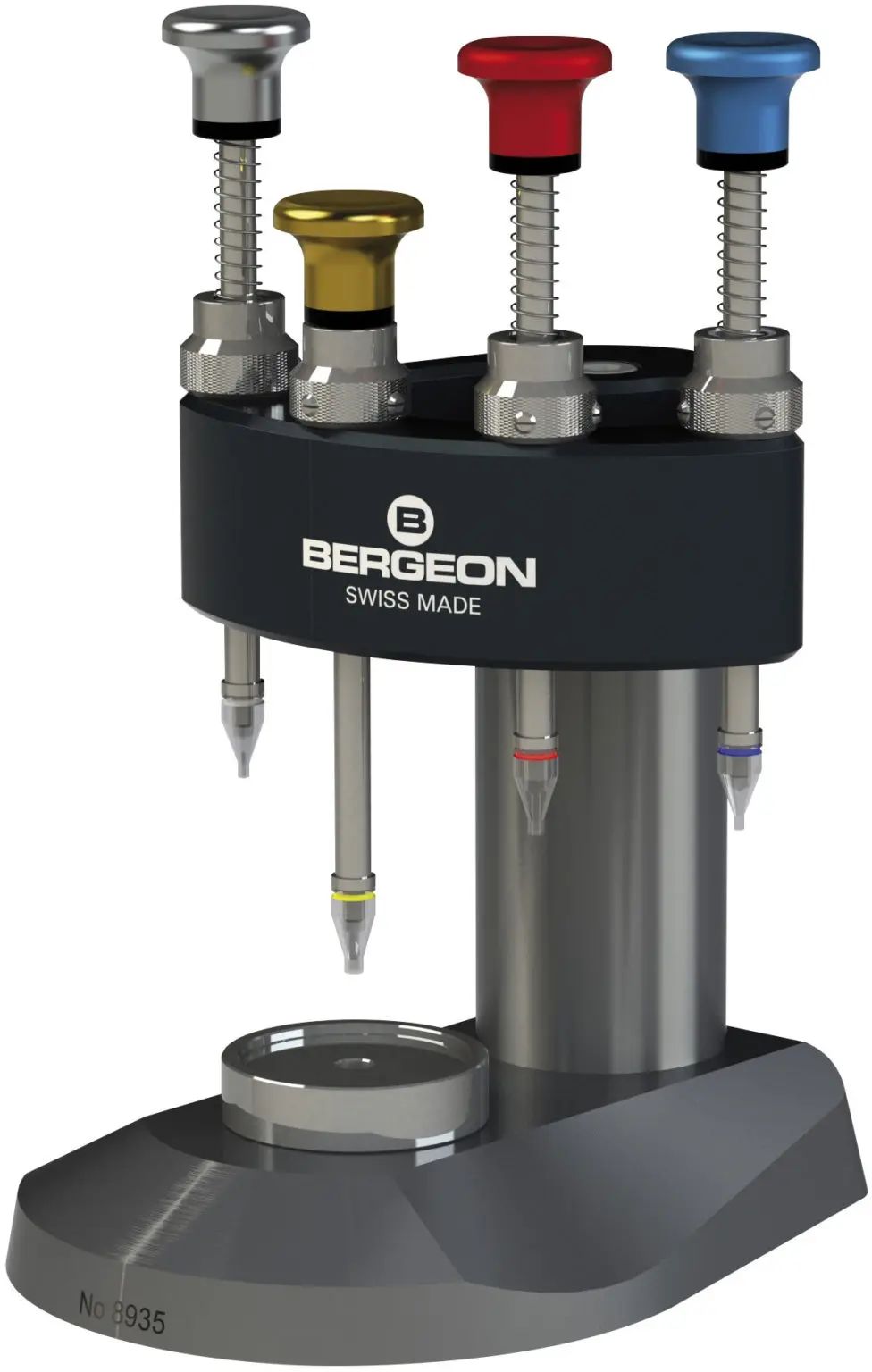 The movement holders to secure the watch movement
The movement of a watch being its most delicate component, it cannot be managed directly on a table or in the hands of a watchmaker.
To prevent damage, a movement holder is necessary to secure the movement while working. This tool looks like a small extendable vice and is often made of nickel-plated brass.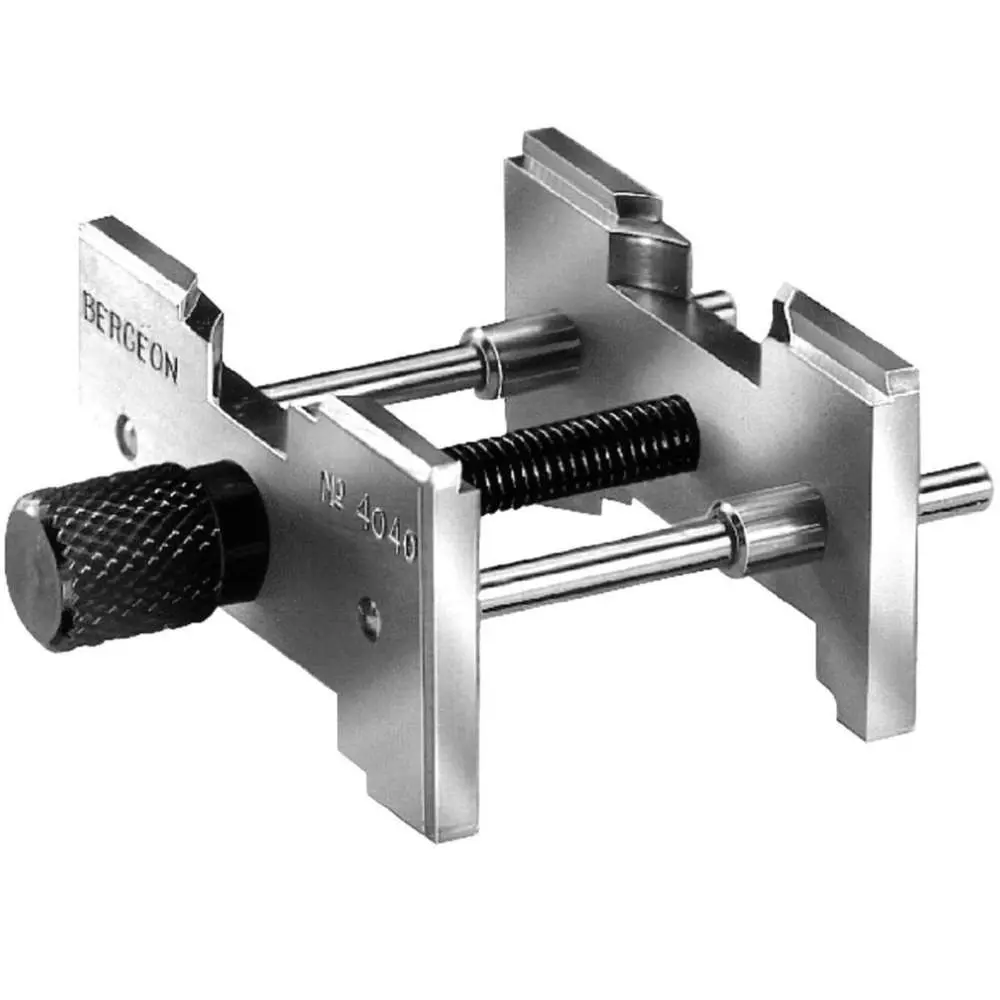 The desk pad or workbench mat
This tool is in the form of a non-slip or self-adhesive work mat so that it does not have to be permanently fixed to the work surface. The desk mat is very resistant to chemical products used in the watch industry, such as solvents or alcohol.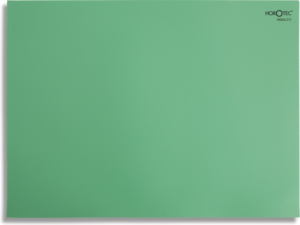 These workbench mats are available in an assortment of colours that contrast sufficiently with the parts that make up the movement of a watch, making it easier for the watchmaker to make it.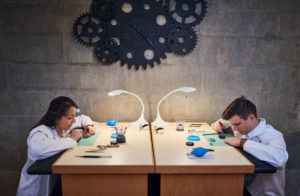 Finger guards or finger protectors
Finger guards are an essential part of the basic watchmaking tools. Their purpose is not to protect the fingers of the professional, but to protect the watch and its movement from dirt and pollution.
Finger guards also allow fighting against the oxidation of the movements which could be due to the direct contact with the skin of the watchmaker.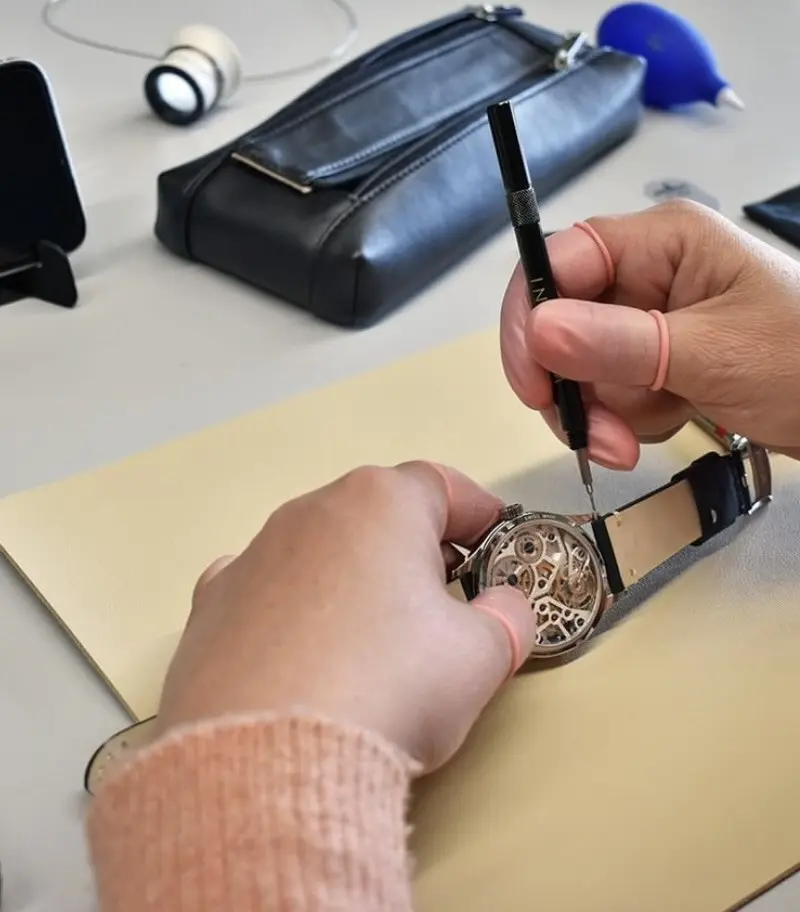 These can be made with or without latex but are generally antistatic and do not contain talc.
Storage and sorting tools
This hermetic tool, generally made of glass, is used to store and protect the parts and the movement from dust or any other contact when they are not at work.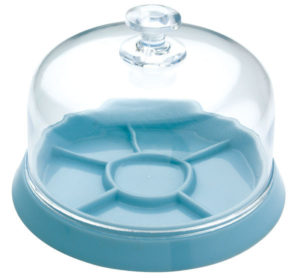 This hermetic tool, generally made of glass, is used to store and protect the parts and the movement from dust or any other contact when they are not at work.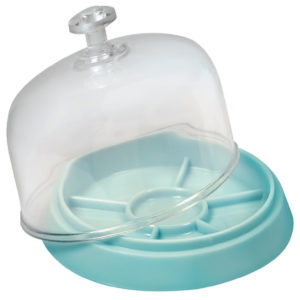 This receptacle is used to handle and deposit small parts of a movement, such as stones or screws.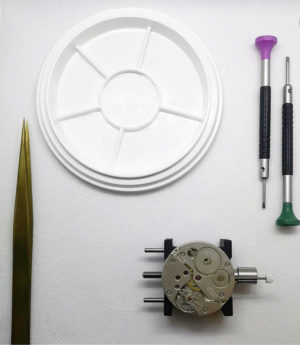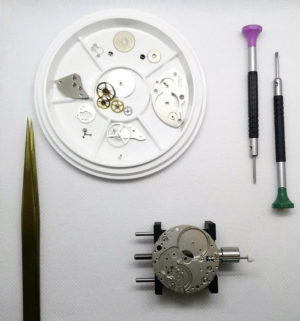 Maintenance tools to clean delicate parts of the watch
This tool in the form of a wooden slat has a covered part generally made of cowhide or felt.
The cabron is mainly used to clean, and sometimes polish, delicate parts of a watch, like the dial.

This pear-shaped rubber instrument is a necessary tool for any operation on the movement of a timepiece. Indeed, it allows removing dust from the movement and some parts because there is always a risk of fine particles entering the movement of the watch.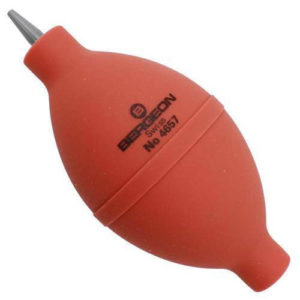 Its bellows system allows to leave no trace, moreover, its tip generally made of PVC prevents any scratch in case of unfortunate contact. On all blower bulbs, there is a valve on the back to prevent the tool from sucking up potential dust through its tip.
Its bellows system allows to leave no trace, moreover, its tip generally made of PVC prevents any scratch in case of unfortunate contact. On all blower bulbs, there is a valve on the back to prevent the tool from sucking up potential dust through its tip.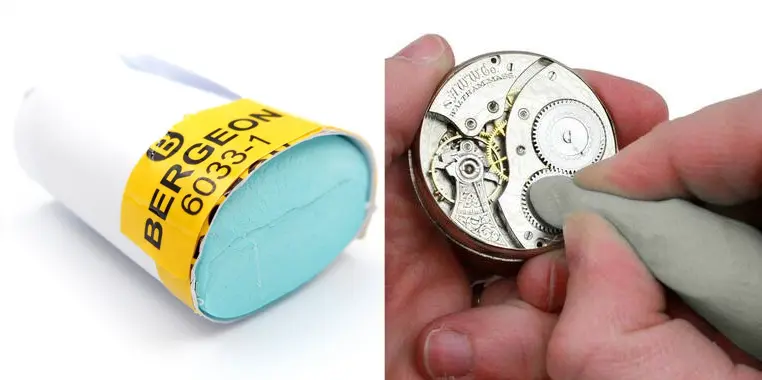 Its use is relatively simple: this blue coloured paste is used to clean all the movement: it allows to remove any imprint and trace of doits or to remove any excess of oil. Its great absorption properties are excellent to remove any deposit without risk.

At Initium, and as ambassadors of watchmaking, we are always happy to satisfy anyone's curiosity about watchmaking equipment or tools.
Do not hesitate to visit one of our workshops to discover more about Swiss mechanical watchmaking and its tools!
https://www.outils-horloger.eu
https://www.gearpatrol.com
https://www.selvatime.ch
https://www.venus-diffusion.com
https://www.web-horloger.fr
https://mdwatch.ch
https://www.mon-petit-horloger.fr